Top 5 Chrome Extensions for Recruiters
Sourcing and recruiting have always been about outreach and connection. It can be very time-consuming, but at the same time, you are expected to act fast.
Luckily, many steps in this work can be automated with the recruiter tools today. Here are the top 5 Google Chrome extensions that can help you with finding emails of your prospective contacts, scheduling interviews, accessing all of a candidate's information from one place, or using canned responses to save time on manual typing.
Most of the tools in this list are free or have a freemium (a limited number of functions are free while full functionality is paid) pricing plan. Stick around and let's delve into it!
Templify - write messages in 1 click!
Templify is a free Chrome extension that lets you create templates for frequently used messages and apply them to any web page, service, or platform. The concept is similar to canned messages - you type out a text once, save it, and can insert it into your writing anytime in the future with a click.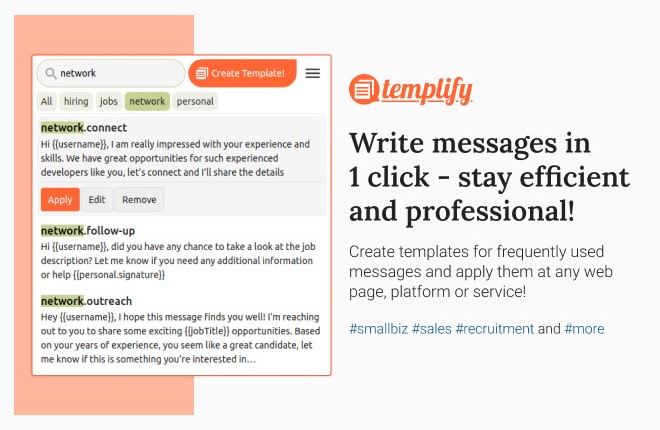 Source: Templify
There are four main things it lets you do:
Create and store message templates.
Personalize the templates.
Organize these templates into groups and categories.
Access and insert these pre-saved messages on any page on the Web.
Cold outreach on LinkedIn, email templates for Gmail, setting up an interview, and anything else where a standardized text can be used are all prime opportunities to use it. With Templify smart syntax, you can create a personalized message template, and prefill it when inserting or filling it with data from the webpage.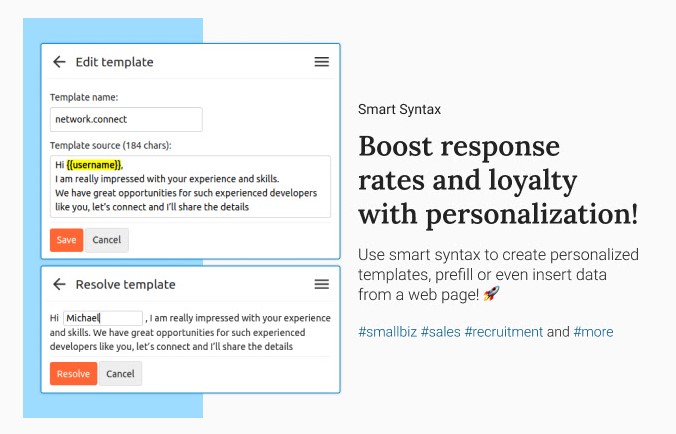 Source: Templify
Templify lets you organize your saved messages into groups and categories, making it easy to use, neat and tidy. The extension makes accessing and inserting these templates easier and more convenient than if you were to store them in Google Docs, draft email templates in Gmail, or some other place. It also can be controlled by keyboard keys - no need for mouse movements and interruptions.
If you are a Google user, then you might know it has its own template function. Canned responses Gmail function lets you save an email as a template and then insert it into a new email with a few clicks. Compared to this, Templify lets you use the saved messages both in Gmail and anywhere else.
Templify is completely free to use, there is also no limit to how many templates you can create.
Calendly: Automate Your Interview Scheduling
Calendly is a self-service scheduling tool that automates the interview scheduling process. By just sending over a Calendly link, you can let them see your or your HR's available spots, and book the one they prefer.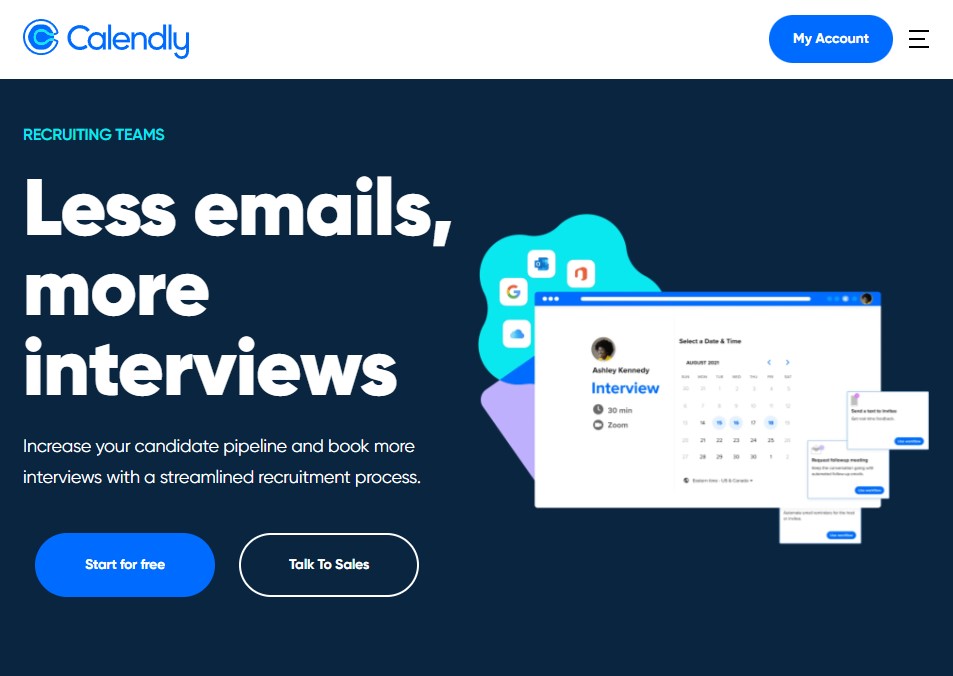 Source: Calendly
Depending on your Calendly settings, the service will then automatically create a video conference and send the link to it along with all the details to you and your candidate's emails.
As the Calendly team says on its website, "Candidates can choose an available time in just a few clicks, interviewers are never double-booked, and reschedules are quick and easy."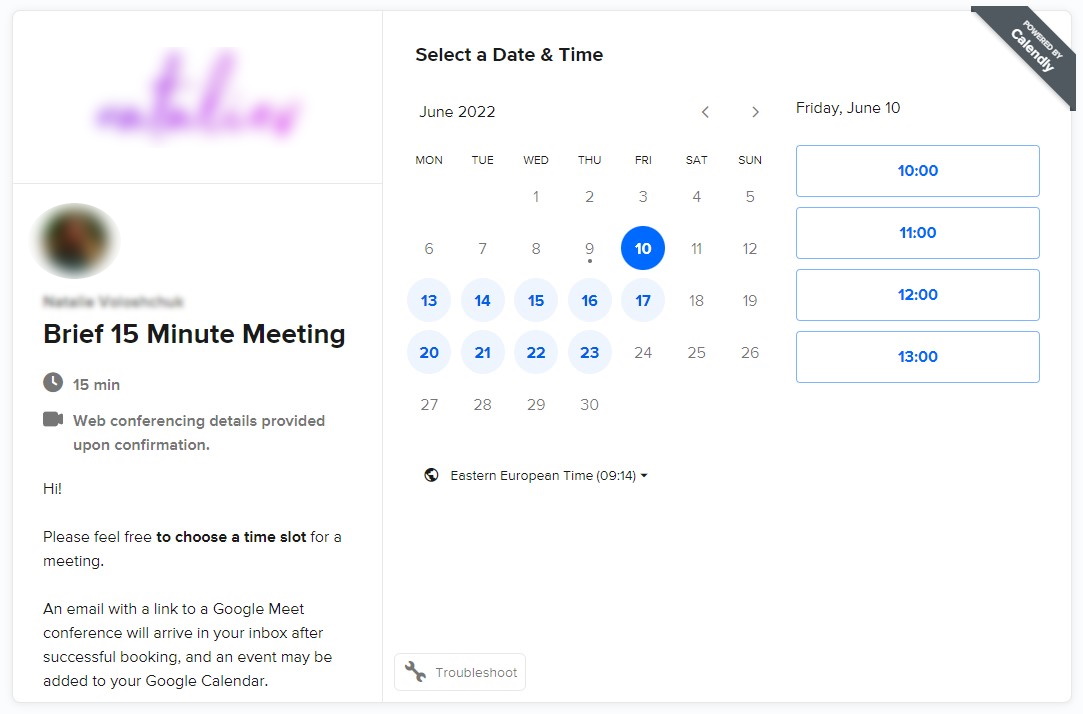 Source: Calendly
Calendly has a free plan that lets you create and schedule one meeting type - 15-min, 30-min, etc. It syncs with your calendar to prevent double bookings, and will only offer available dates and time slots to a candidate based on the rules you've set. Once booked, event details will arrive in both your and their inbox.
The emails with event details created by Calendly have a link to reschedule and come with a default reply template.
The free plan lets you integrate with Google Meet, GoToMeeting, Microsoft Teams, Webex, and Zoom web conferencing and create video conferences, links to which would arrive along with other details to your email address. The paid plans start from $10/mo.
Pro tip: You can use Templify extension to store links to Calendly's schedule page or to online conferencing services like Google Meet or Zoom. When composing a message to anyone, you could quickly insert the message template instead of keeping them in bookmarks or copy-paste from elsewhere.
Hunter: Find and Verify Email Addresses
Hunter is a service that lets you find verified email addresses of professionals by their name, find emails by a website domain address, or check whether a certain email address exists. It has a Google Chrome extension that lets you immediately find the email addresses behind the websites you're browsing.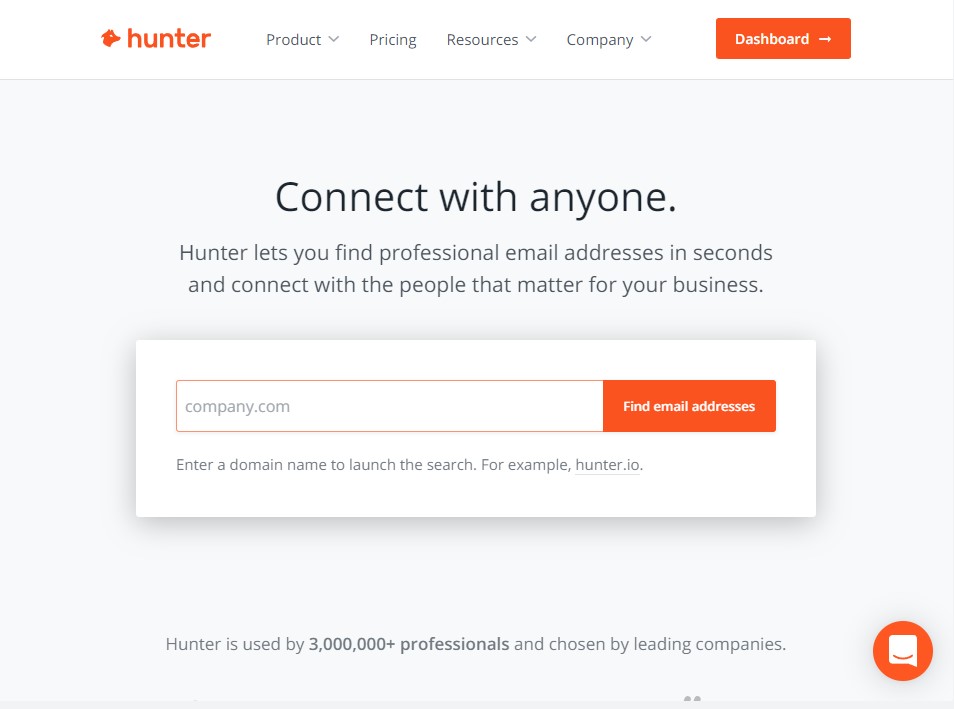 Source: Hunter
The Hunter's extension for Chrome lets you find emails in a very easy way: just install it, go to a website and it will show email addresses right away.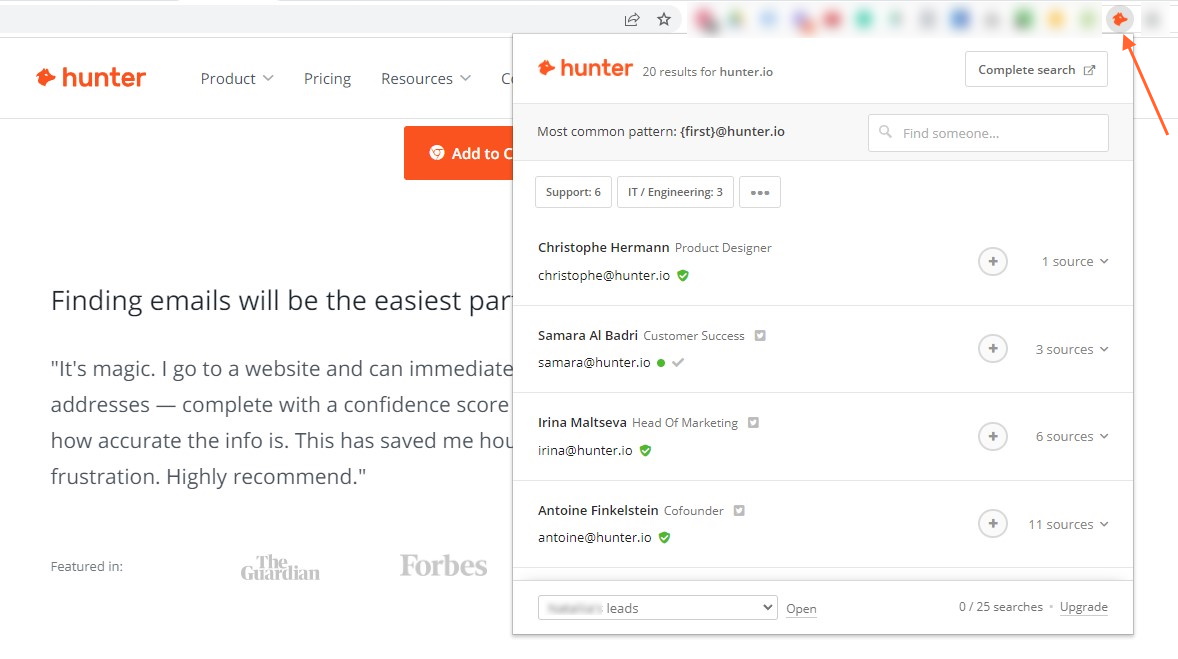 Source: Hunter
There is also a Hunter add-on for Google Sheets - it lets you launch a single or a bulk email search by domain or by using first, second name, and a company, as well as verify the emails you already have, straight from your Google worksheet.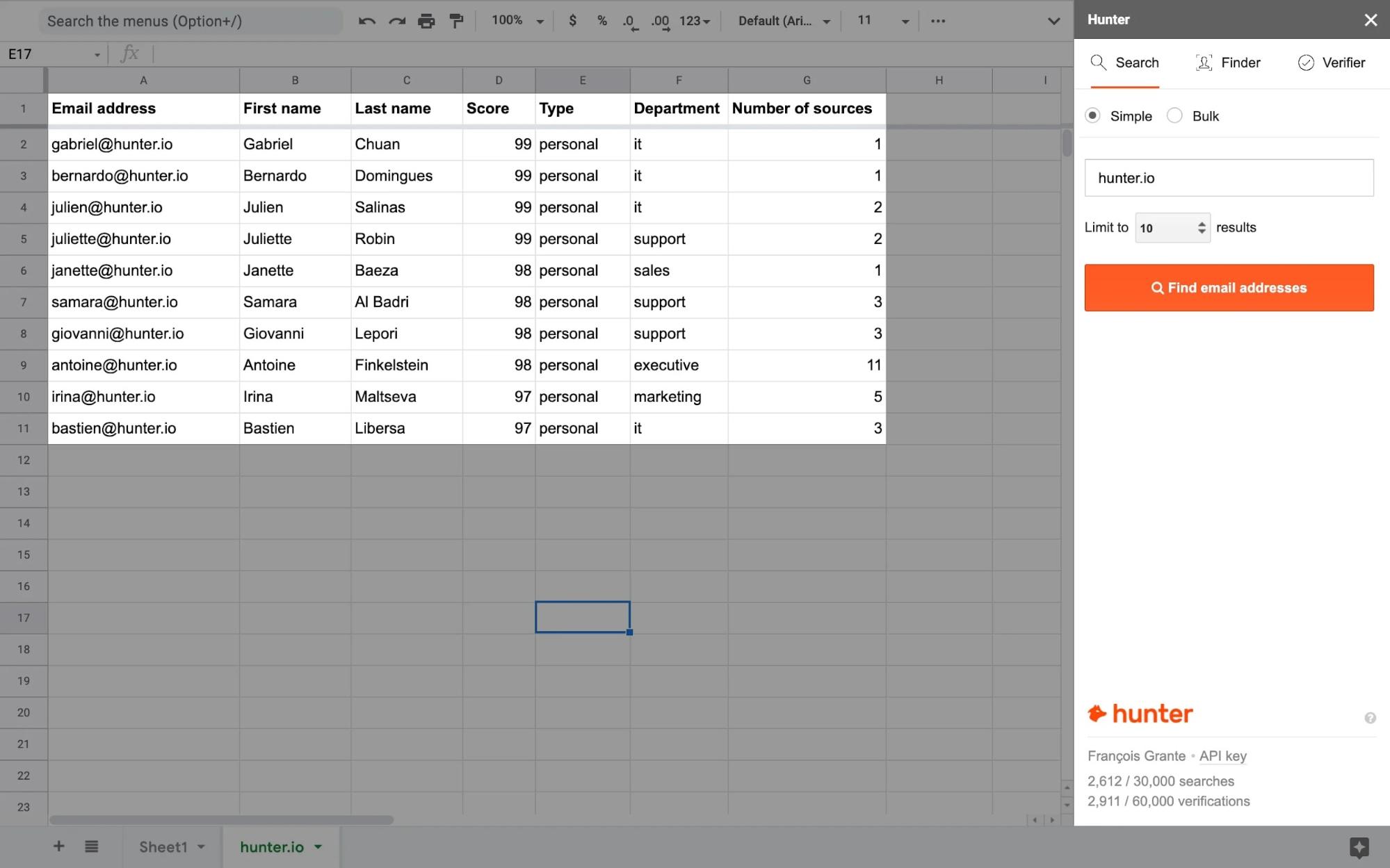 Source: Hunter
Hunter email finder and verifier both have free versions that let you do 25 and 50 searches and verifications per month respectively. Their paid plans start from $49/mo. and offer significantly more searches and verifications, along with other Hunter features.
Glossarytech: Learn Tech Terms
GlossaryTech.com is a free online toolkit for tech recruiters and sourcers that helps find out what a certain technology does. The extension shows definitions of tech-related keywords and is great when you want to quickly understand different types of tech skill-sets.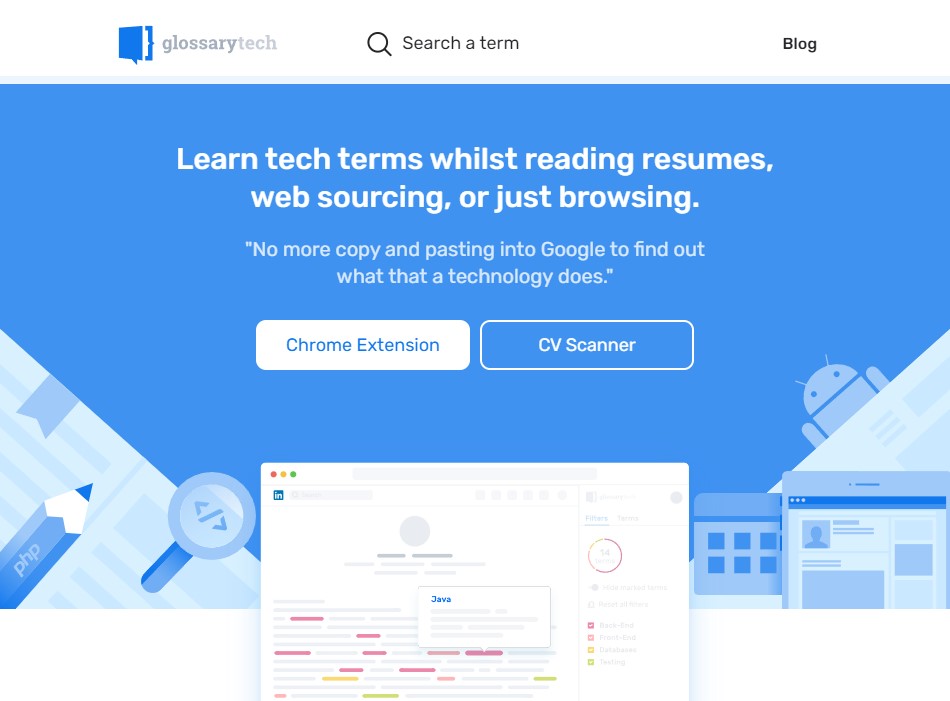 Source: GlossaryTech
Here is what it does:
Highlights technical terms on a web page.
Provides concise definitions for them plus their alternatives and/or related terms.
Allows you to filter the terms by category. Each category has a different color. For example, Front-end, Back-end, QA, etc.
According to GlossaryTech's team, it works on any website, be it LinkedIn, GitHub, StackOverflow, or Wikipedia. Its database has 1500+ tech terms and offers an easy-to-use search function.
GlossaryTech runs what they dubbed Bull Sessions: a series of interviews with tech recruiters, where the recruiters share their experience and pieces of advice about the profession.
Aside from all that, GlossaryTech also has a CV scanner. It does all the same thing - finds tech terms listed on any CV, provides easy-to-understand definitions, and structures them by categories - but this time resumes/online profiles are the source.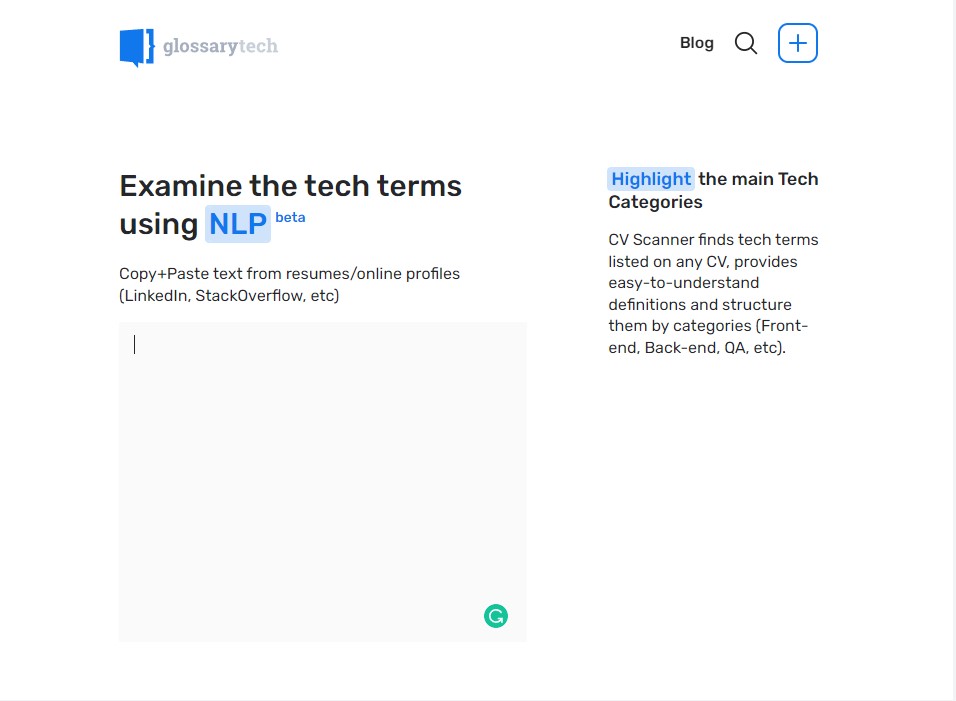 Source: GlossaryTech
Contact+: Candidates' Information In Your Gmail
When dealing with dozens of candidates, it is not easy to remember their information and avoid it all blending together. Contact+ helps exactly with that: it helps you create a profile on a candidate and access it from your Gmail.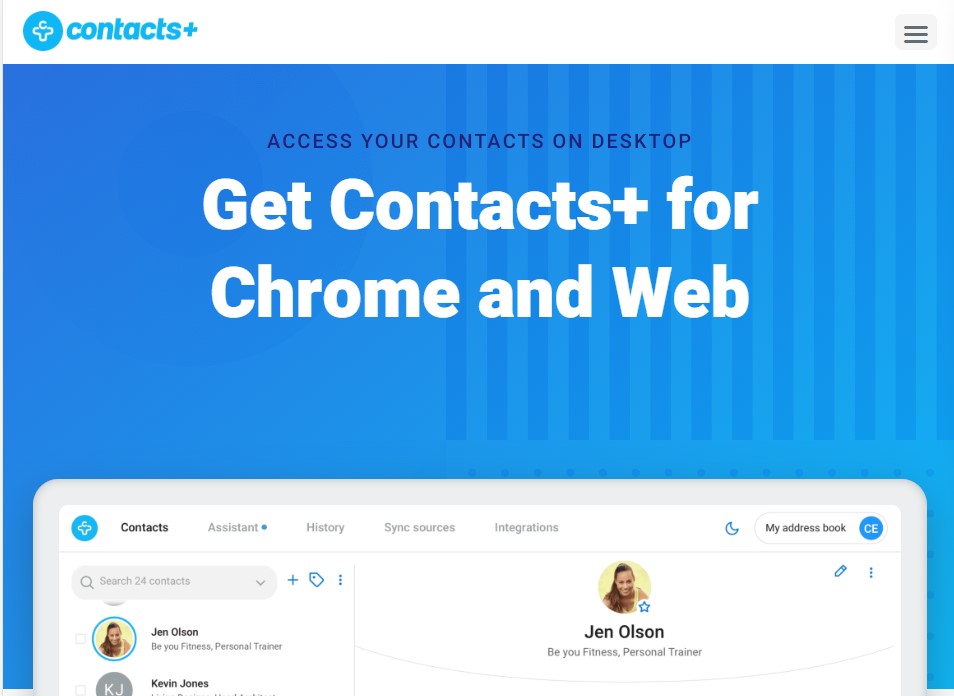 Source: Contact+
With this contact management extension, just one click on an email thread and you'll see a full profile of the people involved - links to their social profiles, photo, job title, company and location.
The information shows up in a sidebar and offers at-a-glance access whenever you need it. The tool also lets you copy the data to your clipboard in one click.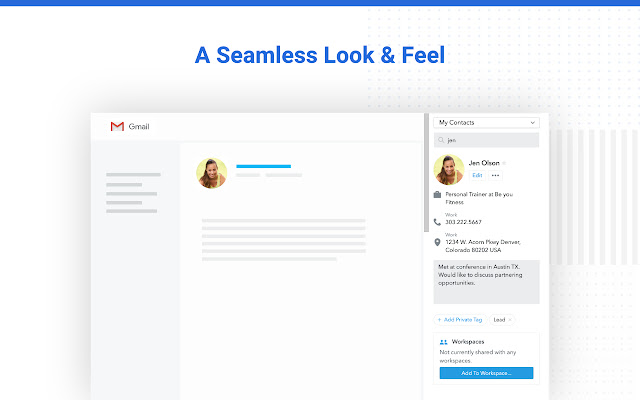 Source: Contact+
Contact+ has a free basic version that lets you manage up to 1,000 contacts and synch one account across your devices. Their premium plan costs $9.99 /mo. and offers up to 25,000 contacts and 5 accounts for synching.
Key Thoughts
Each of the tools in this article can help you do more while spending less time. By combining them, you could get even further.
Skip googling unfamiliar tech terms with GlossaryTech.
Find and verify the email addresses of your potential talent targets with Hunter.
Never mix up or forget your candidates' information with Contact+ – and even better, access it straight from your inbox.
Automate scheduling and rescheduling interviews with Calendly.
Speed up contacting talents, scheduling interviews, or sending interview results via Templify's canned message feature.
In the end, recruiting is still about people, but there are many tasks that can be automated. By taking advantage of the technology, you can save your time as a recruiter and improve efficiency during all steps of the workflow. They can make your life easier on many levels - from simplifying how you arrange interviews to automating your sourcing and cold messaging.
LAST EDITED: Jun 28
Nataliia Voloshchuk
Digital Marketer